COMPOSER ERNEST DAWKINS HOSTS A JAMMIN JAZZ FUNDRAISER
AT CHICAGOS HOTHOUSE FOR ENGLEWOOD COMMUNITY

Fundraiser set to raise dollars for the 7th Annual Englewood Jazz & Cultural Arts Festival cosponsored
by the Chicago Park District, HotHouse and the The Jazz Institute
Saxophonist, bandleader and composer kicks off his annual Englewood Jazz Festival with a fundraiser
featuring the Corey Wilkes Quartet and some of Chicago's hottest jazz artists Thursday, July 6 at the
HotHouse located at 31 East Balbo from 5:00 p.m. to 9:00 p.m. Tickets can be purchased by going to
www.hothouse.net or by contacting one of the following: HotHouse at (312) 362-9707 ext. 209, Ernest
Dawkins at (773) 221-6385 or Yvonne Orr-Richardson at (773) 551-3976. Sponsorships and reserved
seats are available. Call today to get your tickets!

Dawkins hopes to raise the funds to support local, up and coming artists that will be featured during the festival, including the Corey Wilkes Quartet and many others at the 7th Annual Englewood Jazz Festival being held September 9, 2006 at Hamilton Park (513 West 72nd Street).
For more information about the fundraiser or the festival, contact (773) 551-3976
---
AN "INTERACTIVE" INTERVIEW ON "JAVA JAZZ"
On Wednesday, April 26, Cheryl K, co-host of Java Jazz, 9am-noon on
WMUA, 91.1 FM, will interview saxophonist Ernest Dawkins. His New Horizon Ensemble will perform in Bezanson Recital Hall on Thursday, April 27 at 8:00pm as part of the 2006 Magic Triangle Jazz Series.
This will be a very "interactive" interview where we'll all be at our computers checking into Chicago Creative Arts On-Line, Inc. (CCAO), the first artist-owned and operated video streaming company, featuring the best in Chicago's creative, improvising arts.
---
The New Horizons East Coast Spring Tour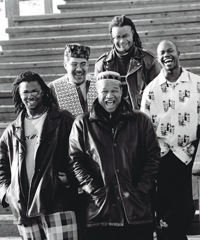 • New Horizons will in perform at the Magic triangle series at
University of Massachusetts in
Amherst Mass. Thursday April 27, 2006.
• Ernest Dawkins will give a lecture on the AACM at
Hampshire College 1:00 pm, Friday April 28, 2006
• New Horizon performs Friday in Boston at the Boston Creative Arts series.
• New Horizons in Cincinnati to perform at the Loft Society, Saturday April 29, 2006
• New Horizon Performs at the Sanga Cafe in Takoma Park, Maryland
Sunday April 30, 6:00 PM
---
Sons d'Hiver Festival: FREE JAZZ, BLACK POWER
(in 1971, Philippe Carles & Jean-Louis Comolli published "Free Jazz, Black Power", a landmark book about jazz in its Afro-american socio-political context. A book now available in trade paperback "Folio" collection.)
Since New Thing emerged in the mid-60's, Jazz has been closely linked to the social, political and cultural history of Black Folks and to their liberation movements. We're pleased to introduce you to two personalities with quite a different background but who took a common part in the revolutionary adventure of the 70's: the Black Panther Party. Matthew Shipp & Ernest Dawkins are the living proofs that the fight is not over.

"FRED HAMPTON PROJECT" CHICAGO 12


ERNEST DAWKINS, composer, conductor, saxophone
KHARI B, spoken words / AARON GETSUG, baritone saxophone / KEVIN NABORS, tenor saxophone / GREG WARD, alto saxophone / NORMAN PALM III, trombone / COREY WILKES, trumpets / HARRISON BANKHEAD, JOSH ABRAMS, double bass / JUSTIN DILLARD, piano / ISAIAH SPENCER, HAMID DRAKE, drums
35 years after his assassination by the FBI, Fred Hampton, tragic hero of the Black Panther Party, has become a genuine icon of Afro-american counter-culture. Ernest Dawkins, key figure of the Chicago Jazz scene, lyrical saxophonist and, above all, hyperactive militant within the black community is a tremendous catalyst of energies willing to musically draw the portrait of a Black Folks cause's martyr, turning his music into a political weapon. With the explosive AACM youngsters of the Chicago 12, Dawkins is creating an ambitious music both looking back at its Great Black Music roots and opened to the more recent fads of contemporary Black music (Khari B, a young militant poet, even gives the orchestra a Hip-Hop flavour). Dawkins, here, let us hear that Afro-american still is untameable. Fred Hampton can be proud.

January 13, 2006, 8:30 pm

Espace André Malraux
Le Kremlin-Bicêtre
2 place Victor Hugo
01 49 60 69 42